Niswonger Foundation Selects Five New Scholars
January 8, 2016
by
Admin
in News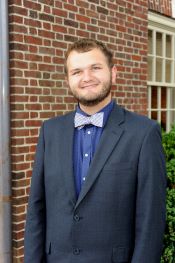 Christian Dalton                 
Elijah "Bo" Pless              
Kori Smith
Savannah Agan              
Tanner Shively
The NISWONGER FOUNDATION, founded by Greeneville, Tennessee businessman and philanthropist Scott M. Niswonger, has selected five high school seniors to join the Niswonger Scholars program.  Currently, there are 20 Niswonger Scholars, with the newly selected students for 2016 bringing the total to 25.  The Foundation, also, supports the current network of 57 Alumni from this program.
It is believed that this program is unique to any other leadership program in the nation.  Niswonger Scholars are selected through a nomination process that seeks to identify the region's best and brightest future leaders.  Criteria for consideration include:  1) evidence of outstanding leadership in their schools and communities; 2) academic excellence and intellectual curiosity; 3) family financial need; 4) personal integrity; and, most importantly, 5) the commitment to return to Northeast Tennessee.
These Scholars are given the opportunity to attend any college or university, in the United States, that will best prepare them for success in their chosen field of study. During their college experience, the Scholars participate in a four-year leadership development program, including personalized and group activities. Through an emphasis on leadership, business management, community service and ethical decision making, the Scholars are provided travel experiences; training that includes an array or successful regional, state and national leaders; study abroad; internships; technology; academic advisement and personalized support to become model leaders and citizens of the world.
Making a positive impact on the future of Northeast Tennessee is the fundamental goal of this program. Following the Niswonger philosophy of "Learn, Earn, Return," these students commit to returning to the First Congressional District to work in their chosen careers, while serving their communities as servant leaders. The plan is that by enabling these students to pursue their academic passion and cultivating their leadership abilities, they will be committed to returning to their "roots" and being catalysts for the growth and improvement of this region.
The five new Scholars are Savannah Agan, Unaka High School; Christian Dalton, Hancock County High School; Elijah "Bo" Pless, Elizabethton High School; Tanner Shivley, Sullivan South High School; and Kori Smith, Chuckey-Doak High School.
Savannah Rose Agan is a senior at Unaka High School in Elizabethton.  She has served as Chapter FFA president and as secretary for the Eastern Region FFA and for the Appalachian Fair Youth Board.  She is a member of the 4-H Wildlife team, 4-H Forestry team, and FFA Agricultural Sales team.   Her awards include, FFA GOLD Leadership Award, State FFA Degree recipient, state finalist in Agricultural Sales Competition, and state finalist in Small Animal Production & Care Proficiency. Savannah has completed community service with the National FFA Organization, Health Occupations Students of America, 4-H, Johnson County High School and the Key Club.  Her intended college major is agriculture. Her parents are Jerry and Amanda Agan.
Christian Michael Dalton attends Hancock County High School in Sneedville, where he earned a 4.0 GPA.  He serves as president of HCHS Student Council, vice president of the Sneedville chapter of FFA, Senior Representative on the Tennessee 4-H State Council and as an Upper 8 Scout for the Tennessee 4-H Eastern Region All Star Council.  He is a member of the 4-H Honor Club, 4-H All-Stars and 4-H Livestock, Land & Soil and Wildlife Judging Teams. He was nominated for and received "Vol State" at the 2015 4-H Roundup.  He has completed community service hours through 4-H and FFA. He is planning to major in agriculture. Christian is the son of Rita Dalton.
Elijah Charles "Bo" Pless is a student at Elizabethton High School. He has served as Executive Board Member and Senior Class Secretary for the Student Government Association, vice president of the Carter County Chamber of Commerce Youth Leadership Group, and Calvary Baptist Church's Student Leaders in Christ Council.  His awards include, Tennessee Division 2 Class AA State Marching Band Champion, Most Outstanding Band Student, Wynell White Biology Award and Paul H. Pless Award. He has co-authored a book "Footprints of Appalachia". He is active in Varsity Basketball and Varsity Baseball at EHS.  Bo has completed community service hours through Mission Fuge Camps, Hale Community Ministries, Carter County Chamber of Commerce and Race for Wandell. His intended major is engineering. He is the son of Eddie and Kim Pless.
Tanner Lynn Shively attends Sullivan South High School. He is a member of Sullivan South Baseball Team, National Honor Society, Beta Club, National Society of High School Scholars and Health Occupations Students of America. His awards include Honorary Usher- Senior Honors and Commencement, faculty nominee for Mr. Sullivan South and American Legion Boys' State- Tennessee Technological University. He is active with community service through Cornerstone Fellowship Church, ER and Pediatrics at Wellmont Medical Center, Salvation Army, United Way, Boys and Girls Club and Saving Grace Baptist Church.  He plans to pursue a premedical track in college. Tanner is the son of Tammy and Robert Jarvis.
Kori Lynn Smith is a senior at Chuckey-Doak High School.  She is president of her senior class, vice president of the Chuckey-Doak FFA, Co-Captain of the Greene County and City Schools' Destination Imagination Team, Co-Captain of the Lady Knight's Soccer Team and Co-Captain of the Lady Knight's Tennis Team.  She is a member of the Black Knight's Nation –  the Chuckey-Doak Marching Band, Spanish Club, Tusculum College's Upward Bound Program and the Fellowship of Christian Athletes. She is a graduate of the Greene County Youth Leadership program.  She has completed community service hours through Destination Imagination and First Church of God. Her plans are to major in education.  She is the daughter of Gena Shipley.
Established in 2001, the Niswonger Foundation's mission is "To create opportunities for individual and community growth through education and other sustainable projects." The Foundation's primary programs are the Scholarship and Leadership Program, and the School Partnership Program.  Additional information regarding the work of the Foundation is available at www.niswongerfoundation.org.