Niswonger Foundation Receives "Investing In Innovation" Grant
August 24, 2010
by
Admin
in News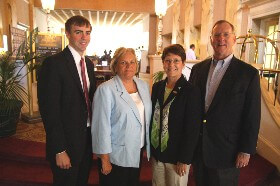 Brad Smith, SCORE Commission, Linda Irwin, Nswonger Foundation Director of School Partnerships, Nikki Niswonger and Scott Niswonger
NISWONGER FOUNDATION RECEIVES FEDERAL "INVESTING IN INNOVATION" (i3) GRANT TOTALING MORE THAN EIGHTEEN MILLION DOLLARS
Greeneville, Tennessee – Scott M. Niswonger, President and Founder of the Niswonger Foundation has announced that the Foundation has received an "Investing In Innovation" (i3) Grant from the U.S. Department of Education. This grant will be in excess of $18 million. Niswonger stated: "This is a 'banner day' for the Foundation. A decade ago, we started with a dream of improving K-12 education as a means to better prepare the children of our region for the 21st Century. Today, it's gratifying to see the results of that work recognized nationally. This U.S. Department of Education grant not only points to our current record of success, but also emphasizes the tremendous potential that expanding these programs will have on improving the quality of education in Northeast Tennessee."
Niswonger Foundation Director of School Partnerships, Linda Irwin, who prepared the grant application and is the administrator of the grant, explained that only 49 school districts, nonprofit education organizations and institutions of higher education across the U.S. were selected from nearly 1,700 applicants. To receive a share of the $650 million in i3 Grants, the winning applicants must be able to secure a commitment for a 20 percent private sector match by September 8.
In announcing the grant recipients, U.S. Secretary of Education Arne Duncan stated: "All across America, innovative entrepreneurs are finding solutions to our most pressing educational challenges. The i3 Grants will support creative thinkers who test good ideas and take proven approaches 'to scale' so that more children can benefit."
The U.S. Department of Education selected the 49 finalists based on recommendations from independent peer review panels. Grants fall into three categories: up to $50 million per "scale-up" grant for programs with a strong track record of success; up to $30 million per "validation" grant for growing programs with emerging evidence of success; and up to $5 million per "development" grant for promising ideas. Winning applicants will serve 42 states and 2 territories with more than half the grants serving students with disabilities and limited English proficiency, and 37 percent serving rural school districts.
The Niswonger Foundation is one of only 15 recipients in the "validation" category and will be awarded $18-$30 million in late September. This money will be used to fund the Northeast Tennessee College and Career Consortium. Fifteen school systems (Carter County, Elizabethton City, Cocke County, Greene County, Greeneville City, Hamblen County, Hancock County, Hawkins County, Johnson County, Sullivan County, Kingsport City, Bristol City, Unicoi County, Washington County, and Johnson City) will join together to improve the rigor of their high school curriculum, increase graduation rates, raise ACT scores, provide more dual-enrollment classes with our community colleges, and create greater opportunities for career technical students. All 15 school systems have been awarded Partnership programs in the past by the Niswonger Foundation. A major focus of the grant selection was the ability for the proposed projects to be replicated successfully in other areas. The Foundation's proposal was viewed as meeting this competitive preference. No other i3 Grants were awarded in Tennessee.
Linda Irwin, Director of School Partnerships stated: "We are thrilled to receive this grant. For more than nine years, the Niswonger Foundation has worked diligently to provide quality educational opportunities for students in Northeast Tennessee. It is gratifying to know that our efforts merit being awarded this grant. The infusion of this money will allow us to accelerate our existing ten year plan for school partnerships into 4 years. This could not come at a better time since a major goal of the Foundation is to support our schools in the First Congressional District as they face new, more rigorous standards and expectations."
Established in 2001, the Niswonger Foundation was founded by Scott M. Niswonger, Greeneville businessman and philanthropist. The mission of the Foundation is: "To create opportunities for individual and community growth through education."