Niswonger Foundation Benefits from Jersey Mike's Grand Opening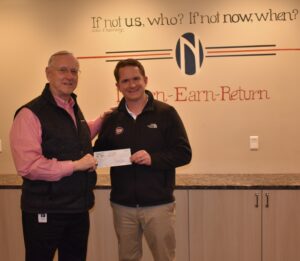 The Niswonger Foundation was presented a $3,000 check from Jersey Mike's franchise owner, Sam Curde.  Recently, Curde opened his third Jersey Mike's regional location at 2327 East Andrew Johnson Highway, in Greeneville.  The contribution came as part of the store's grand opening celebration.
For a $2.00, or more, contribution to the work of the Niswonger Foundation, customers received a free sub sandwich.  While accepting the contribution, Foundation Chairman and Founder, Scott M. Niswonger, praised Curde for his commitment to education.  "This show of support for our work to ensure that students are prepared for post-secondary education and careers is impressive.  I greatly appreciate Sam's dedication to building our community.  We are delighted to have Jersey Mike's Sub Shop locate in Greeneville."
On hand for the check presentation were youth leaders from the Greene County 4-H program.  The student leaders included Randy Strickland and Hailey Williamson (Chuckey Doak High School); Cannon Wilhoit (South Greene High School); Layla McKee (homeschooled); Emma Grace Meadows (North Greene Middle School); and Mason Philbeck (Greeneville High School).  This group is lead by Christian Dalton, Greene County 4-H Youth Development Extension Agent.  Dalton is a Niswonger Scholar Alumnus, having returned to the region to fulfill his commitment as a Niswonger Scholar.
Following the check presentation, Curde and Niswonger joined the student 4-H leaders to share their career experiences, the importance of giving back to your community, best tips for a successful future, and to learn more about the goals of the future leaders.  And, of course, they enjoyed a Jersey Mike's lunch.
Reflecting on the event, Niswonger Foundation President and CEO, Dr. Nancy Dishner, stated:  "We are honored to have a business leader, like Sam Curde, willing to share time and resources in support of our work.  He well represents our Foundation's motto – "Learn – Earn – Return."