AP Access for All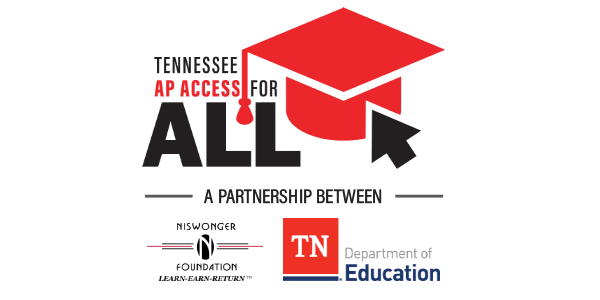 The AP Access for All program is a partnership between the Niswonger Foundation and the Tennessee Department of Education.  The program is supported by the Niswonger Foundation's extensive history of virtual instruction and AP virtual instruction through the Niswonger Online program.
Advanced Placement (AP) for All provides students across the state with access to virtual AP courses, educational resources and individualized teacher support.  The goal of this program is to eliminate common barriers to AP coursework.  Over the next two years, a minimum of 5,000 students will gain access to AP coursework and the opportunity to earn college credit through the AP exam.  
Students can enroll in AP courses that are not currently offered at their home high school by taking the course online, through Niswonger Online, taught by a licensed Tennessee educator.  Common costs associated with participation in AP coursework are covered, including, but not limited to, the AP test fee and the educational resources and/or textbooks.  
AP Access for All provides training for teachers as well.  Current AP teachers will be able to take advantage of advanced professional development to refine their curriculum and teaching strategies.  Tennessee teachers who have not attended professional development to teach AP courses will also be able to take advantage of comprehensive AP training.  These teachers will be able to teach in-person AP courses in their home district, and virtually, for students in the AP Access for All program through the Niswonger Foundation.