Niswonger Foundation's CareerConnect Participants Welcome Marlin White, Program Contributor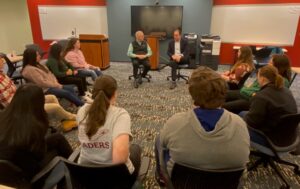 On Friday, January 13, a select group of the Niswonger Foundation's CareerConnect students, known as Explorers, gathered for a special opportunity to meet two regional business leaders and learn about their journeys to career success.  The students were joined by Marlin White, President of Chasan Industrial Complex, Greeneville; and Scott Niswonger, local businessman, philanthropist, Chairman and Founder of the Niswonger Foundation.
The CareerConnect program serves selected students in high schools in Greeneville City, Greene County, Carter County and Washington County.  This workforce readiness and career exploration initiative is designed to provide students the opportunity to explore career paths, develop essential skills for workforce success, and gain real-world work experiences.  There are currently 275 students participating in this workforce readiness program.
Marlin White became a contributor to the success of CareerConnect when he learned of the program's focus on building a strong workforce and providing students with excellent training for their future careers.  As he and Niswonger addressed the students, they shared the experiences that put them on the path to success.  The students were provided with their best advice, including learning from mistakes, taking risks, the importance of seeking mentors and effective role models, and not to be afraid of hard work.  The students were given an opportunity to ask questions and share their thoughts and experiences.
The stimulus for the development of this program was a desire on the part of Niswonger Foundation Board Member and Greeneville business leader, John Tweed, to provide an opportunity for students to develop essential skills for workforce success.  He recognized the importance of hands-on experiences earlier in life. The initial support for the CareerConnect program came as a contribution from Tweed.  Marlin White followed suit in financial support for the program, believing in the importance of building a strong workforce for Northeast Tennessee.  The success of the program has gained the interest of Governor Bill Lee, with the program receiving three Direct Appropriations Grants from the Office of the Governor.  This support has allowed for significant expansion of the program.
Explorers participating in this event included Katie Barger, Karina Juarez, Brooklynn Babb, and Bianca Juarez (North Greene High School); Jenny Gonzales-Cruz (Chuckey Doak High School; Hunter Thomas and Edilia Hurd (Greeneville High School); John Jones, Nichole Vance, Benjie Morgan, and Chancelyn Shelton (South Greene High School).  The students were joined by members of the Foundation staff: Gabrielle Billiot, CareerConnect Coordinator; Law Loving, Director of Workforce Readiness; and Dr. Nancy Dishner, President and CEO of the Foundation.
Chasan Industrial Complex focuses on distribution and manufacturing.  There is more than 1,100,000 square feet of "food grade capable" space, with an additional 600,000 square feet of warehousing and distribution facilities, in Greeneville.  The company's tenants provide employment to more than 550 people.